For more than 2 weeks now, my wife and I had been visiting the doctor for checkups. For the second time now, I've had my blood checked for various tests. Urine included. I also had chest x-ray, ultrasound to check some parts of my internal organs. I also had ECG to check my heart condition. The cardiologist further suggested I have my heart checked again with 2D echo and so I did.
Sick Body: No Longer As Healthy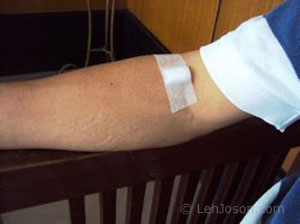 Well, I will not tell you all the test results but just to simply say, I'm no longer as healthy as I used to be—especially now that I'm already 57 years old. I need to do something so I won't get sick all the time. Some parts of my body are now showing "wear and tear" just like some parts of my 12-year old car. I need to be careful now of my overall health. Because of this new reality, I need to change my usual diet and lifestyle somewhat. A lifestyle overhaul is needed. Such is life.
During times like this when we get sick, one begins to pause and think about life and what it all means. I think it's but natural. I can't help but think of God's command to some of the Old Testament prophets who were told to "set you house in order" as they were about to die. We all know we will all pass away sometime soon. It's all just a matter of time. But when we get sick, we think of it more than at other times and we think of our loved ones and that for their sake, we need to "set our house in order."
The Lord Jesus Christ encourages us by telling us that he has already won over sin and death. Nothing can separate us from God's love including sin and death. He has conquered all these—Jesus assures us. We have the victory. Thank you Lord for this wonderful news that we can trust you to take care of us and our loved ones.
Let us always remember that God created all of us to participate in the love relationship enjoyed by the Father, Son and Holy Spirit. And God has made sure that we will be able to join this wonderful relationship through our Lord Jesus Christ. There's nothing to worry about. We are safe and secure in God's hands through our Lord Jesus Christ.