The Shack Revisited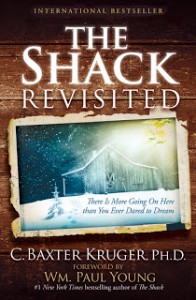 C. Baxter Kruger's book, The Shack Revisited
kept me engrossed these past few days reading, thinking, pondering about all that I have been learning from him since August 2007. It also reminded me of what he said in one of his 30-minute video interviews that "it's like drinking in a fire hydrant" to talk about a big topic in so short a time. In this book, there's so much to learn and too many wonderful things mentioned that it may take a lot of time—maybe a lifetime—to fully grasp and understand everything.
Baxter relates how he got so captivated by the bestselling book, The Shack
he wanted to meet the author himself, William Paul Young. They eventually became good friends. Paul Young graciously helped in the making of Baxter's new book.
The Shack
Baxter's book is somewhat more of a theological explanation and elaboration (citing Scripture and various theologians) of Paul Young's book which according to Paul himself is fiction which he originally wrote for his children. It doesn't mean though that Paul Young's book has no solid theological foundations. It is for this reason I think that Baxter got fascinated with the book and got him interested to get to know "the William P. Young" himself, in person—a person who wrote so well about theological truths in a fictional story. Both authors are great theologians in so far as I'm concerned.
The main thing that is really wonderful for me to know in The Shack Revisited is that God who is Father, Son and Holy Spirit is love. This God who is love is eternally in loving relationship with each other such that they are one—mutually indwelling one another. And the wonderful thing is that this loving Father, Son and Holy Spirit has included me (and all of mankind) into that loving relationship through Jesus Christ. It's so amazing. This is the "truth of my being." May this be my "way of being" as I yield to the Lord. With God's help, it will be.
Baxter ends his book, The Shack Revisited with this paragraph:
"Holy Spirit, have your way with us, that we may feel the squeeze of Jesus' hand and hear his Father shout our name. Do what you must, that we may repent and believe and so taste and feel and experience the life and freedom of our adoption in Jesus."
I say, "Amen and Amen!"