For the first time in my life, without any signs or any warning at all, I got dizzy while driving along the expressway! I had a very high blood pressure and I didn't know it! It was early morning (March 1) and I had to bring my mom to the Ninoy Aquino International Airport, Terminal 1 (NAIA 1) in Manila all the way from San Fernando, Pampanga. My mom visited me for a few days and she was now going home back to the US.
While driving along the North Luzon Expressway (NLEX), I suddenly felt dizzy. My vision slowly began to get blurred and I felt like the world was turning around in front of me. Thankfully, I still managed to slowly bring the car to the emergency parking area (the right shoulder of the highway) without any incident. I rested for a while and told my mom about it. I was silently praying that God would help me out.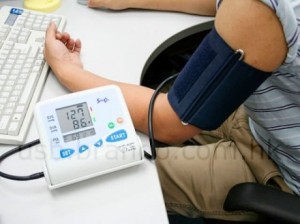 Then we moved on again. But it didn't take long that I felt dizzy again so I had to stop again at the emergency parking area. I reclined the driver's seat, took a nap while my mom sat there beside me worried about everything that's been happening around her. Thankfully, she read an emergency phone number right outside where we parked. I called up the number and told NLEX about my situation. In minutes, the highway patrol group arrived. They called up the paramedics which also arrived in minutes in their ambulance. I thank these personnel of NLEX. They helped me for free. I tried to give them some money to show my gratitude but they refused. They didn't ask for anything. I salute them for their service to motorists in need of help.
High Blood Pressure Unrealized
As it turned out, I had a very high blood pressure at over 200/100! It was the first time this happened to me. After resting for some 3 hours at the Petron Gas Station, I was back to normal. Without any incident, I was able to send my mom to the airport on time but I missed attending a PMA General Assembly meeting scheduled that day at pier 15 at MV Logos Hope.
I pity my mom that she had to see her son helpless while she sat beside me also helpless and didn't know what to do. But I believe God helped us through. I'm just glad to know she's back home safe in the US. After sending my mom to the NAIA 1 airport, I decided to go back home to Pampanga instead of attending another meeting. I arrived home safely without any incident. Thanks be to God for his guidance and help.