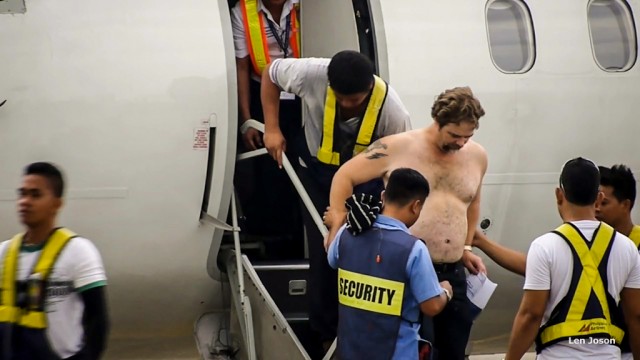 On my flight back to Manila from Tacloban a week or so ago, many of us who were waiting at the airport began to be impatient when our flight became increasingly more and more delayed from its scheduled departure time. The plane was already there but it seemed like there was no sign yet that we were going to board the plane anytime soon. There was so much time delay I thought to myself and I couldn't see any activity for a long while at the tarmac.
But then later on, my impatience was changed into curiosity when I saw a policewoman got inside the plane. I quickly grabbed my camera and changed my 14-45mm kit lens to my 45-200mm zoom lens. Then some of the ground crew gathered around the plane's stairs. I thought that there might be some crime that had happened or maybe a bomb may have been planted and they are checking the plane.
I was wrong.  As it turned out, the reason for the delay was that there was an American who got sick and vomited while in flight from Manila to Tacloban. They were waiting for an ambulance to arrive before they moved the patient out of the plane. My impatience turned to compassion—feeling sorry for the American who got sick while in flight. Hope that by this time he is doing fine and in good health wherever he is now.