Liter of Light: Making a Difference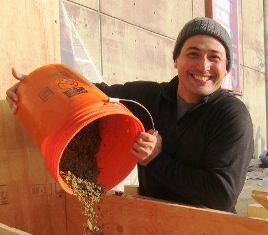 Here's something that's really worth sharing. Here's somebody who is making an impact in the Philippines and his fame is spreading throughout the whole world because of his "liter of light" project. I don't know him that much and of course he doesn't know me. All I know is what I see in his Facebook account. He seems to me to belong to the upper class of Philippine society and I heard — not so sure about it though but most likely — he is the brother of Gloria Diaz, the former beauty queen. His name is Illac Diaz II. He became my "friend" at Facebook about a year or so ago because I was curious of the new innovations he was introducing in the field of architecture and how he is helping poor people in the country. Here's an interesting video about him and projects:
From Liter of Light to School Buildings
What makes him stand out for me is his dedication to help the poor and less-privileged sector of Philippine society. I salute him for his love for the poor and needy. I can also sense his love for architecture of which I am also interested in. I first took notice of his project "Isang Litrong Liwanag" or "A Liter of Light" which has really helped a lot of poor families illuminate their homes without the use of electricity. This "bulb" which produces natural light is actually made out of plastic soda bottle. Many poor families cannot afford to pay for electricity and this "invention" is helping poor people a lot.
And this time, he is making waves again by being passionate about building more classrooms out of empty soda bottles for children. As we all know, classrooms are sorely lacking in the Philippines. I've heard about 60,000 more classrooms are needed nationwide. God bless him as he serves his poor and less-privileged countrymen.