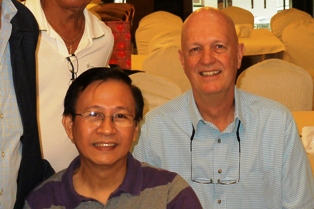 I really like what Ted Johnston—a pastor through whom I have learned a lot through emails since 1995—has shared recently in his blog. Here's an excerpt of that:
"Time and again, Scripture proclaims that what God has done (through the incarnation, life, death, resurrection and ascension of his Son, and the outpouring at Pentecost of the Holy Spirit) transforms all humanity. Here are some of the verses of Scripture speaking to this: Romans 5:15,18; Romans 6:10-11; 2Corinthians 5:14-19; Ephesians 1:3-10, Ephesians 2:4-9; Colossians 1:19-20, Colossians 3:1-4, 11; 1Timothy 2:5-6."
"I hasten to add that we do not rely on select 'proof texts' for this understanding. Rather, we must take into account the full story of God and humanity told in Scripture, by which we come to know Jesus for who he is, and for what he has done; and the effect this has on all of humanity (and, indeed, the whole cosmos). The above cited verses give a brief summation of this stunning truth, which is the "scarlet thread" that runs through and gives coherence to all Scripture. The ancients refer to this thread as 'the rule of faith.'"
The starting point in understanding what the Bible is all about is to find out who Jesus is, the Word of God and the Creator of all humanity and all of creation. Just like the Apostle Paul on his way to Damascus, we should also ask: "Who are you Lord?" And the accompanying question we should also ask is, "Who am I Lord?" "Why am I here on earth?" "Why was I born?" "What for?"

Jesus Christ is the lens through which we could understand Scripture. Knowing who Jesus Christ really is and knowing who we are in him will open our eyes to the truth. God loves you and me. Christ has already reconciled us to God. Let us respond to God's invitation to come to him. This is truly good news!