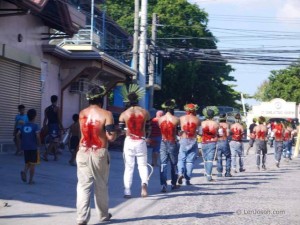 For more than two decades, I knew that 1 Corinthians 15 was all about the resurrection–especially the latter half of the chapter. But it was only after some 20 or more years, that I learned and truly realized what was actually written in the first few verses of this chapter. I never noticed it though I read it many times. Somehow, this was never quoted nor taught by my former pastors and we all were blinded to this truth about the real gospel. But thanks be to God, he has now opened my eyes to the true gospel.
What the True Gospel Is
As we approach the holy week, let us again consider what the true gospel is. This is the true gospel that should be preached. Here is what the apostle Paul wrote:
"Now, brothers, I want to remind you of the gospel I preached to you, which you received and on which you have taken your stand. 2 By this gospel you are saved, if you hold firmly to the word I preached to you. Otherwise, you have believed in vain. 3 For what I received I passed on to you as of first importance: that Christ died for our sins according to the Scriptures, 4 that he was buried, that he was raised on the third day according to the Scriptures," (1 Corinthians 15:1-4)
The gospel is all about Christ. It's about his birth, life, crucifixion, death, burial, resurrection and his ascension. It's all about him and his Kingdom of which he is King. It's about God's reign—God's Kingdom. It's all about his incarnation and atonement—his becoming flesh and his sacrifice on the cross. It's all about Christ and his relationship with the Father. It's all about Christ and his relationship with all of humanity and all of creation. He died for all. It's about humanity's adoption through Jesus Christ. It's all about Christ.
Right after Jesus ascended, during Pentecost, the very first sermon that the apostle Peter gave was about Christ–about his crucifixion and his resurrection (Acts 2:22-36). He preached about Christ! Let's take a look at some of the verses:
"Men of Israel, listen to this: Jesus of Nazareth was a man accredited by God to you by miracles, wonders and signs, which God did among you through him, as you yourselves know. This man was handed over to you by God's set purpose and foreknowledge; and you, with the help of wicked men, put him to death by nailing him to the cross. But God raised him from the dead, freeing him from the agony of death, because it was impossible for death to keep its hold on him"(Acts 2:22-24).
"Therefore let all Israel be assured of this: God has made this Jesus, whom you crucified, both Lord and Christ." When the people heard this, they were cut to the heart and said to Peter and the other apostles, "Brothers, what shall we do?" Peter replied, "Repent and be baptized, every one of you, in the name of Jesus Christ for the forgiveness of your sins. And you will receive the gift of the Holy Spirit."(Acts 2:36-38)
Notice the apostle Paul's focus:
"When I came to you, brothers, I did not come with eloquence or superior wisdom as I proclaimed to you the testimony about God. 2 For I resolved to know nothing while I was with you except Jesus Christ and him crucified."(1 Corinthians 2:1)
This is the true gospel!
The gospel is not about God's sovereignty although we acknowledge that he is sovereign. The gospel is definitely NOT about human free will, human freedom or about total depravity. The gospel is not about doing good works in order to get saved. Rather, through the Lord Jesus, the gospel declares that man's sinfulness and depraved condition has been taken care of by the Lord. While we were still sinners, he died for all of us! (Rom. 5:8). He did not count our sins against us (2 Cor. 5:19) but rather, he reconciled all of us  (2 Cor. 5:18)—all of humanity and all of creation–to himself (Col. 1:19-20).
14 For Christ's love compels us, because we are convinced that one died for all, and therefore all died. And he died for all, that those who live should no longer live for themselves but for him who died for them and was raised again. So from now on we regard no one from a worldly point of view. Though we once regarded Christ in this way, we do so no longer. Therefore, if anyone is in Christ, he is a new creation; the old has gone, the new has come! All this is from God, who reconciled us to himself through Christ and gave us the ministry of reconciliation: that God was reconciling the world to himself in Christ, not counting men's sins against them. And he has committed to us the message of reconciliation. We are therefore Christ's ambassadors, as though God were making his appeal through us. We implore you on Christ's behalf: Be reconciled to God. God made him who had no sin to be sin for us, so that in him we might become the righteousness of God. (2 Corinthians 5:14-21)
The gospel is all about Jesus Christ! All other "gospels" are false gospels.