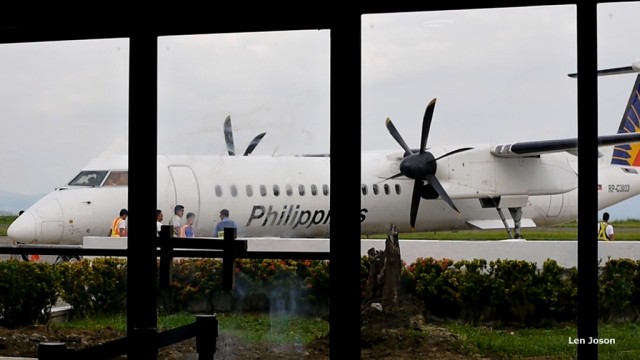 Last September 3, it was in the news that the Tacloban City airport was going to be closed due to the much needed repairs that had been long delayed since typhoon Yolanda devastated the city 10 months ago. The runway just had to be repaired. I was then not expecting that my flight to Tacloban the following day would push through but to my surprise, there was no flight cancellation at all. From the airport we took the bus to bring us to the plane and to our surprise, it was not the usual big plane—the Airbus A300. Some passengers murmured why we were using a smaller plane. I quickly understood why. It was safer that way considering that the runway in Tacloban is in bad shape.
It was my first time to ride again a propeller driven plane since the 80s—maybe about 30 years or so ago. I was actually amazed that it had such powerful engines and you can feel its vibration. The flight attendant told me it was a Q400 Bombardier. Wow, I thought to myself, a bomber plane? Nope, it was not but it sure was fast and it moved a lot compared to the bigger Airbus A300.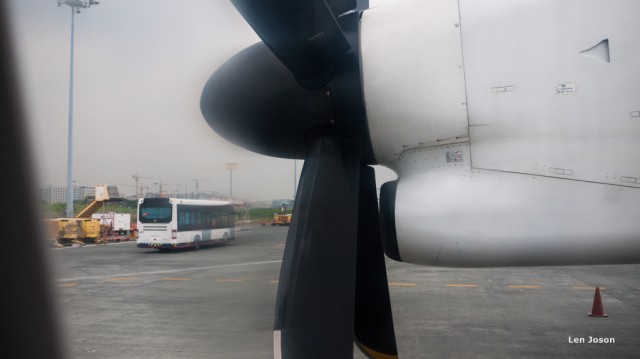 At first I enjoyed that I had a good view of the propeller. I was seated right next to it! So I took videos of it but then later I soon found out how noisy it can be! When we were about to land, I felt like my blood pressure rose higher and I didn't feel good with all the noise and all the shaking all around me. Thankfully, I survived haha!
On my return flight, I made sure I was as far away from the propeller and I had an earphone plugged to my ear. Quite an experience after so many decades had passed.