Photoshoot Revival
Back during my younger days, I loved photography but the cost of film, camera lenses and other camera accessories prevented me from making it a full-time hobby. I enjoyed my Nikon EM film camera (a gift from my sister) while it lasted. Then I shifted to ordinary point-and-shoot cameras which was what I can afford to buy. We used to call it as instamatic cameras — now it's point-and-shoot (P & S). I did enjoy several P & S cameras over a span of many years and I was happy shooting photos of just about anything that interested me. I still enjoy shooting up to now.
But a year or so ago, my daughter gave me a second hand Panasonic Lumix GF1 camera. That sparked my interest again to study further about camera settings and all that stuff. The GF1 is a mirrorless camera different from a DSLR camera. It's smaller and lighter—a compact camera. It's technically called a micro four thirds camera. It is not a P & S camera too.
Photoshoot for a Cause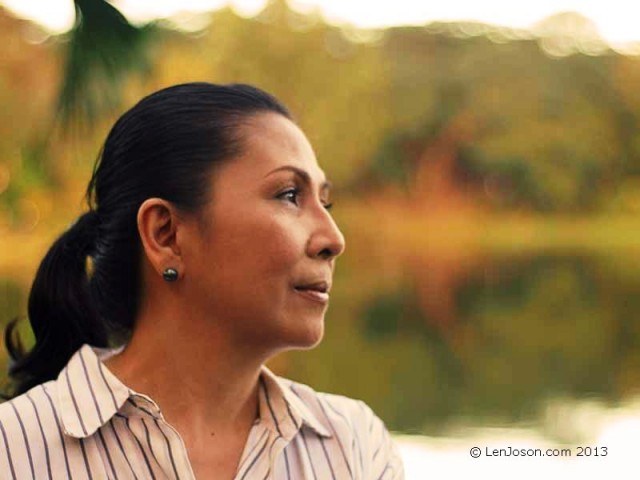 In the photo above, I took a shot of my wife when she was still in college back in 1978. She was my favorite photo subject back then and up to now haha! We were still singles back then. I used my Nikon EM film camera with a 50mm lens. In the second photo, I used my GF1 digital camera but I attached the same old 50mm Nikon lens to it to take a shot of my wife during a "Photoshoot for a Cause" recently at the Ninoy Aquino Parks and Wildlife Center in Quezon City. Without planning to, she became an instant model haha!
Joining that "Photoshoot for a Cause: Yolanda Project" has caused me to study again photography and learn some more about photo post processing. In the first photo above, I tried to revive the old photo and remove scratches and blemishes. It's kind of tough to edit a scanned photo I realize. I still need to learn a lot. I'm kind of enjoying my hobby right now.