Movies seldom make me cry but sometimes it does. Four years ago, the movie, Les Miserables made me cry along with my wife and my daughter as we watched the movie on big screen cinema. I guess I've cried several times since that time but I don't recall which movies and when that happened.
But I didn't expect to cry because of movies two days in a row! That happened yesterday and today.
My wife and I watched The Shack (the movie) yesterday and we just felt the grief, anger and deep emotions going through deep inside the heart of Mackenzie over the tragic death of her daughter Missy. He felt abandoned and blamed God for not doing something. Although fiction, the author William Paul Young wonderfully portrayed who God really is — Father, Son and Holy Spirit — a loving and gracious Triune God who was specially fond of Mac. He portrayed the Triune God as as a loving God — not a legalistic God. It sure made me happy that the good news about who God really is as a Triune being is being shared by a great writer and author. I'm also at the same time saddened because some think of William P. Young as a heretic. To me, he is a great Trinitarian theologian and a great writer. Anyway, that movie yesterday made me and my wife cry as we watched it in the cinema.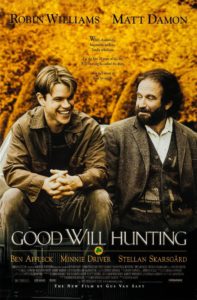 But early this morning, I didn't expect to cry again as I watched another movie. It was not my plan to watch again. I was actually reading Dr. Greg Williams' article on "Introduction to 'Place-Sharing'" which according to him was first promoted by Dietrich Bonhoeffer and was recently elaborated by Dr. Andrew Root. I was interested in the topic which I first heard from Ted Johnston's blog so I read the whole article down to the end. When I got to the end, Dr. Greg suggested the movie, Goodwill Hunting for "a visual demonstration of place-sharing relationships." The name of the movie sounded familiar and I was surprised the cast were big name actors namely: Matt Damon, Ben Affleck and Robin Williams whom I blogged about when he committed suicide recently.
Well, to make a long story short, it was my first time to watch the movie. Thankfully I'm a subscriber to Iflix.com and the movie was available so I watched it at home in my laptop. And the movie made me cry again.
Two days in a row! I'd better not watch a movie again. Unless someone will recommend a movie again haha!
Photo credit: Google