Blogging is what this site is all about but October must have been a busy month for me 'cause I missed posting not even one blog. I was aiming to write a blog at least once a month but I didn't realize it's already November! Time flies so fast! So, I missed that one for October.
Flight to Cagayan de Oro
I was still in Baguio City on the first day of October and then on the 7th day I flew to Cagayan de Oro City where I stayed for about four days. I went there to organize our church's media team as well as to go visiting the church members in the area. I was given the privilege of preaching to them  during their Sunday worship service in their local church.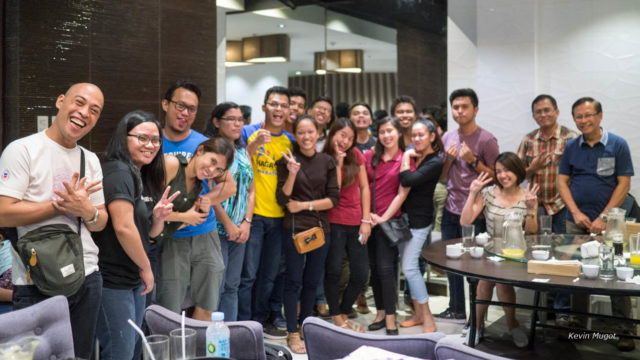 Two Debuts in a Row
This October was also interesting for me because I was invited to two debut parties — one in Laguna and the other in Pampanga — in two consecutive days! The first debut party was in Laguna on the 20th and the following night on the 21st, I was in Pampanga attending another special birthday party when a girl turns 18. I thought that was quite a unique and rare experience for me.
On the 22nd of October, I got invited to preach during the Sunday worship service of our local church in San Fernando, Pampanga. Right after that, I went home to celebrate with my wife our 37th wedding anniversary. My wife was surprised and was really glad to receive flowers from me when I arrived home hahaha!
Second Flight to Cagayan de Oro This Month
I was back again in Cagayan de Oro on the 27th where I preached for two consecutive days to our northern Mindanao local congregations gathered for the festival. I preached to them in the Cebuano dialect about the good news of Jesus Christ and what it means for a Christian and the Church. In the afternoon of the 28th, I was already in Maramag, Bukidnon to again join our Bukidnon church members gathered there for the festival.
I preached again the same Cebuano message about Jesus Christ to the Bukidnon brethren the following day, the 29th during their worship celebration.  In the afternoon I gave a short talk to all the pastors, leaders and emerging young leaders about "expository preaching."
I then proceeded to the Laguindingan airport and took a flight to Mactan in the evening. I stayed at the Mactan airport for the night as per advise from a friend instead of checking in at a nearby hotel.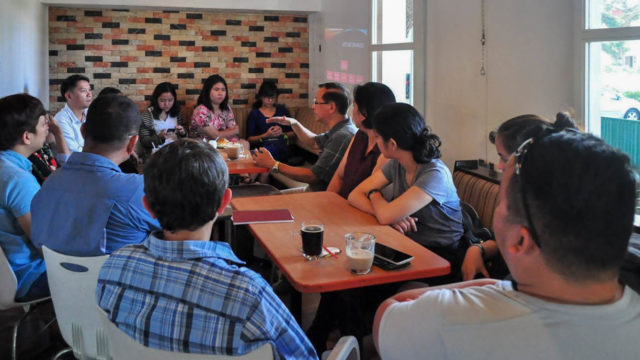 In the early morning of the 30th, I took a flight bound for Dumaguete where I met our Visayas brethren gathered for their morning's festival celebration at the Bethel Guest House.
In the afternoon, I met the Visayas media team to give them some orientation and overview of what the media team was all about. The meeting place was a nice cafe for students named "Poppy Coffee." I'm not sure thought if it was inside or outside the campus of Silliman University.
It was my first time to be in Dumaguete and I would say that it's a nice city and I like it there. I hope to visit there again and hopefully next time, I could plan to meet my relatives in the area. I did not have a chance during that quick and "just passing through" visit on my way back home to Manila.
On the 31st of October, I was finally home with my family just in time to celebrate my father-in-law's 9th death anniversary the following day, November 1. The family usually gathers for a reunion during this time of the year. One of my sisters-in-law from Japan did arrive to join us in this Fen Santos family reunion.
Reason For Being
Why do I do all these activities in my life? Why do I do what I do? What keeps me going? Am I doing good works to earn salvation? Well, I'm not doing all these to earn points with God so I can enter heaven. Nope.
I'm doing all these in participation with the Lord Jesus Christ who is living his life in me. I believe he is in me doing the work he only can do and I am given the privilege to join the fun in what he's doing through me and enjoy it too! And it's quite fun! it's fun to be with the Lord Jesus! Thank you Lord for your life and love that you share not only for me but for all of humanity!
So, that was my month of October. I guess I have a reason why I missed posting not even one blog for that month. I hope to do better next time haha!
Photo Credit: Featured photo: I preached during third day of the GCI Northern Mindanao Worship Festival 2017. Photo by Noel Z. Almera. Photo of media meeting in Cagayan de Oro by Kevin Mugot. Photo of media meeting in Dumaguete by Ayin Visitacion. Thanks guys!