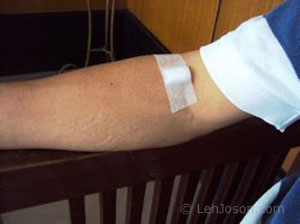 I'm just glad the Lord has given me understanding about what sickness is all about. Sickness is just one of those trials that can befall any one of us. God did not plan for us to live forever in our physical bodies. Rather, God has planned for all of us to participate in the love relationship that is being eternally enjoyed by the Father, Son and Spirit. And what is even more encouraging is that God through our Lord Jesus has already done everything that is needed to be done for all of us to be saved. Our salvation is guaranteed. There's nothing to worry about. This gives us hope and encouragement as we go through life and especially when we get sick.
Sickness Can Happen to Anyone
It's been two weeks now since I got dizzy while driving at the North Luzon Expressway and since that time, I've been going in and out of the hospital for checkups. I can see that I'm not as healthy as I used to be. For one, I now have a bulging tummy—not too much though but how I wish it was not there. Reality check: it's there! I hope doing exercises and diet will help reduce it somewhat.
I have never been hospitalized in my entire life for a sickness. Instead, I have been going in and out of the hospital for more than 20 years as a pastor (I'm now a retired pastor) visiting the sick among our church members. But this time, it's different. I'm now the patient–an outpatient though.
My wife and I have been visiting the hospital for various checkups like ECG, 2D Echo, blood extraction for various tests and ultrasound. The doctor gave me some medicines to address my high blood pressure and high cholesterol level. I'm still not "high blood" though if you know what I mean—a person raging with anger. I can still maintain my cool.
The doctor told me there's nothing to be alarmed about. I'm under medication for one month. Now that I'm age 57, the doctor advised me to have a regular checkup.
God's wonderful good news gives us comfort in the midst of our trials. God's good news gives us hope and encouragement in the midst of our sickness. Thanks be to the Lord my Savior!