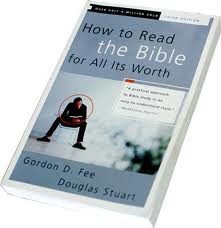 One book that has really helped me to read the Bible better is the book, "How to Read the Bible for All Its Worth " by Gordon D. Fee and Douglas Stuart. I first heard about this book sometime in 1994 where some excerpts of it were quoted during a lecture conducted by Greg Albrecht on Hermeneutics. It was my first time to hear that word. Previous to this, I never knew that there was such a word as "Hermeneutics" (the study of biblical interpretation). It was to me, a strange sounding word—somewhat for the scholarly, I thought. I really thought that I was doing alright with just accepting the interpretations given to me by my pastors. Because after all, their interpretations were based on the Bible, so I thought.
Major Doctrinal Changes
Things changed when my denomination, the Worldwide Church of God (now called Grace Communion International), changed its doctrines from the shackles of legalism to freedom in Christ which I now enjoy by God's grace! As one of its pastors, we were encouraged to "go back to school." So I did—at around age 43! I was challenged to find out what was the truth—back again! For 23 years, I believed and preached what I have believed to be true only to be told after more than two decades that we were wrong after all! It was so devastating—to say the least. So I was challenged to study what Biblical interpretation was all about. I thought I already knew!
Second Encounter with Book
When I entered the Asian Theological Seminary during the summer class of 1996 to take up Hermeneutics, I was pleasantly surprised that one of our suggested reading and textbook was the same book by Fee & Stuart, "How to Read the Bible for All Its Worth." It has really helped me in how I should read and interpret the Bible. I also have another book from Fee & Stuart entitled, "How to Read the Bible Book by Book: A Guided Tour." Go and find these books. It will help you greatly for sure.
Learn Biblical Interpretation
Don't just accept what your pastor is teaching you. Check it out for yourself. And while you're at it, teach yourself some tools on Biblical interpretation. It will go a long way to avoid misinterpreting the Bible and coming out with our own, personal ideas which may be foreign to the Bible. I highly recommend these books.
Suggested Videos and Book Review