Advent in Pampanga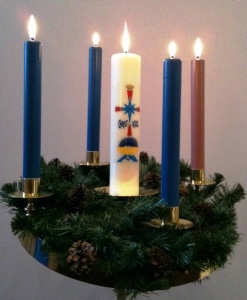 Yesterday, I attended a worship service at the local church of the Grace Communion International (GCI) in Bacolor, Pampanga—my home church. It was the second Sunday of Advent and the sermon speaker gave a message about peace. As part of his sermon, a ceremonial lighting of the second candle by the senior pastor and his wife was done. It was actually an electric light bulb which looked like a lighted candle but it was symbolic and meaningful.
Traditionally for some Christian churches, they light one candle for each of the four Sundays just before Christmas. For some, they light a fifth candle during Christmas day itself. All these candles symbolize Jesus Christ who is the Light of the world (John 1:9) who has come to earth through his birth (incarnation) in Bethlehem some 2,000 years ago. The four Sundays before Christmas symbolically pictures the excitement and anticipation for the coming (Advent) of our Lord and Savior Jesus Christ.
At Ortigas Center
Last week during the first Sunday of Advent, I had the privilege to be invited to speak for the first time at Crossway, a GCI local church meeting regularly at the Home Depot at the Ortigas Center. It was a great opportunity for me to preach to the local church about Advent and what it means. I explained to them that during this season, we were actually celebrating not only the first coming (Advent) of Jesus Christ some 2,000 years ago but also anticipating and excitedly waiting for his second coming or second Advent. And thirdly, I also explained to them that we were also celebrating the fact that he has already come and is with us and one of us!
Jesus is Immanuel
I then explained the Christmas message that Jesus is Immanuel. In one of his books, Thomas F. Torrance opened my eyes to the truth that there were two names given to the promised Messiah that was to come. He was to be called 1) Jesus which means "the God who saves" and he was also to be called 2) Immanuel which means "God with us." In other words, "Jesus is Immanuel" means "The God who saves" is "God with us!" He is not far away billions of galaxies away and looking at us from a distance. He is with us and one of us! That is the Christmas message according to Torrance. I knew about these two names but I didn't realize its significance until Torrance showed it to me.
As we celebrate this season, let us give thanks to God the Father for giving  us Jesus Christ. Let us also rejoice in the fact that Jesus did come (first advent), Jesus will come again (second coming or advent) and let's not forget that Jesus has come into our lives right now and is with us and one of us even right now!