Nope, I don't have a "love life" problem. My wife and I have a happy marriage for some 35 years now. Despite the ups and downs we go through in life, we are living quite a happy married life. I'm talking about my heart—literally. Yes, I have "a problem of the heart."
About two weeks ago, I visited my cardiologist and I was advised to take several tests namely: a blood test, an ECG, a 2D Echo and a stress test on a treadmill. I was able to undergo through all those tests—thanks to my health care provider—but after that I was not able to see my doctor back again as I had to fly to Mindanao for a wedding.
Two days ago, I was finally able to see my cardiologist back again and she interpreted what all those test results meant. I couldn't understand the graphs nor could I understand the handwriting on those papers. Anyway, according to her, under normal conditions, I had normal blood pressure, although my blood test showed my triglycerides are a bit higher than normal. My ECG and 2D Echo results seem to show an acceptable result according to the doctor. But when it came to the tread mill test, it showed that I had a problem. As usual the doctor prescribed some medicines for me to take.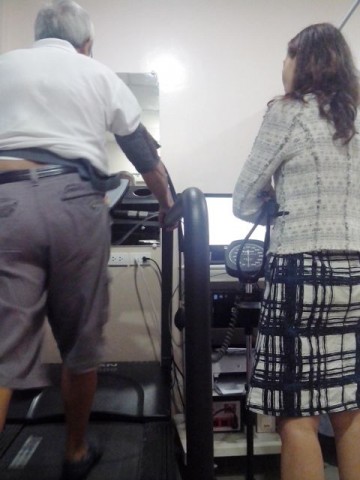 Considering that my dad and my brother had heart problems too—family history—she then advised me to have an angiogram which is according to her needed to find out if there is a narrowing of the arteries and veins and to find out if blood flow is normal or if there is something blocking the normal blood flow. She then told me it might be expensive and the health care provider might not cover it. Whew! Angioplasty is next if the results will show some problems. She explained that angioplasty is the procedure to be done to address the problem.
As it is right now, all I can do is to take care good care of my body in terms of exercise, proper diet, enough rest, avoid getting stressed and avoid doing strenuous activities. In times like these, you come to realize that life will have to end sometime soon and all we can do is to trust the Lord and leave everything into his hands.
In the meantime, for as long as God allows us to live another day, let's enjoy life and love to the fullest, enjoying every moment, living each day as if it is your last.