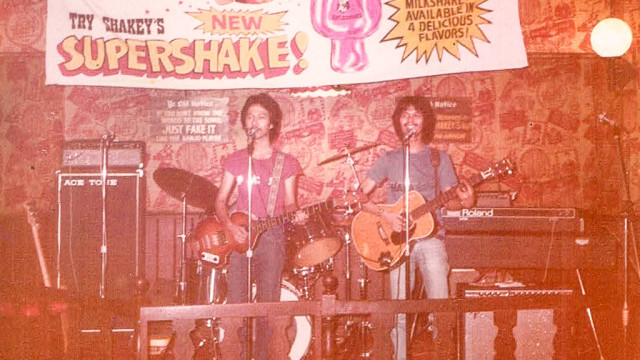 Folk Singing Job: The Joson Brothers
There was a time when my brother (deceased) and I — the Joson Brothers — used to sing regularly in various Shakey's Pizza parlors in Metro Manila — Recto Avenue, Espana, West Avenue, Mabini and Malate. As a young man, it was a time when I thought it was a good idea to earn a living as a folk singer and have some fun. Aside from Shakey's Pizza parlors where we worked regularly, we were also called once in a while as alternate singers (when a singer or a band don't show up for work) at the Bodega, My Father's Moustache and at Hobbit House. We were called the Joson Brothers back then.
We started out as a duet but then later on our other younger brother (also deceased), joined us and we later formed a band by recruiting a drummer to join us. One of our younger sisters also joined us for a while so we had a lady singer for some time but we maintained the band name as the Joson Brothers. We sang mostly folk songs and a little bit of not-so-hard rock music. I was not really a good singer nor was I a very good bass guitarist — just trying hard to become one — but would you believe it my brother and I were able to work in Japan as musicians for some six months hahaha! And I don't even know how to read notes — I just play it by ear.
Started as High School Band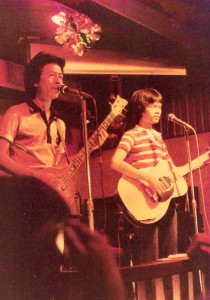 My brother and I actually started band playing back during our high school days. It just so happened that ADSCO, our high school alma mater in Bayugan City, had acquired a complete set of band instruments and we got interested to check it out. So we just started tinkering with the guitar instruments until we eventually learned how to play it. I was about 14 years old and it was my first time to see and hold a real bass guitar haha! We eventually became the school's band and performed in many school activities for some 3 years. We were also busy around town being frequently invited on various occasions even reaching up to the far town of Trento at one time. It was a fun time for me during my high school days being a band leader and bass guitarist.  Oh well, those were the days.
Striving After a Handful of Wind
Looking back—now that I'm a senior citizen — I can see that it was all for fun, for the love of music and for seeking something you don't know what. It was like striving after a handful of wind — striving to really understand what the meaning and purpose of life is all about. I now know finally what I was looking for and I found it. I was after all, actually looking for a relationship, a deep and lasting relationship, a spiritual relationship, the need to connect with our Lord and Maker. This is what life is actually all about. It's like "longing to be home." I believe I finally found "home" with the Lord.
Actually, the Lord found me. "I once was lost, but now am found." Amazing grace, isn't it?