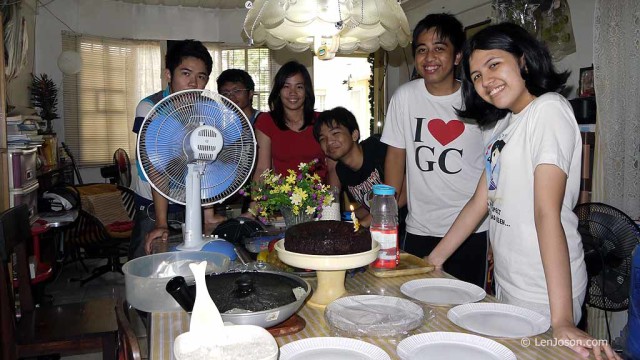 Well, it was my 59th birthday yesterday and unlike in my previous birthdays, I received hundreds of greetings at Facebook. Before Facebook, I have always kept my birthday quietly with no big celebrations and the day normally passes by with only a few noticing that its my day. This time, I guess I was successful in intentionally keeping it "secret" on Facebook haha! It was just another day yesterday for me sending my kid to school, paid my water bill and went to the auto repair shop to have my car's defective stabilizer link replaced. Just another ordinary day for me.
This time, I was able to keep it somewhat "secret" except for a few who still remembered me and greeted me privately yesterday. There was even an early bird who sent me a text message which woke me up! My morning wake up call all the way from Mindanao haha!
Simple Birthday Celebration
Of course my family did not forget the day. My wife made a cake and today my daughter and her classmates who are doing their class assignment at home, sang a birthday song for me before they enjoyed the cake (with one little candle haha!) and their lunch. Well, that was a little belated celebration at home. I thank the Lord for another year. If the Lord would bless me with longer life, it would be exciting to become finally a senior citizen next year!