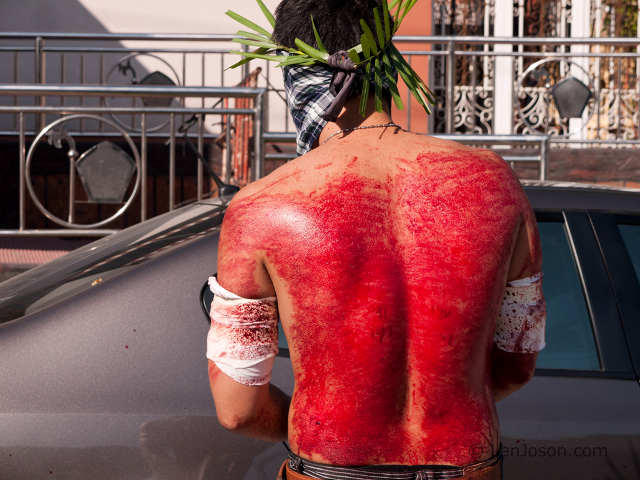 Although the Catholic Church officially discourages penitents from practicing crucifixion and beating themselves up (self-flagellation) to atone for their sins, this long-held tradition continues in the Pampanga province among devoted Catholics. I heard that today, Good Friday, March 29, 2013, there were about 24 penitents who were nailed to their crosses.
Zeal for God
I do not want to be judgmental and question the motives of these devotees. I know many of them are very sincere in their devotion. God knows the inner thoughts and intents of their hearts. Instead, I look at them with respect, love and understanding. I'm actually fascinated by their zeal and dedication to reach out to God and to atone for their sins. Every year as I see this happening, I am reminded of St. Paul's anguish over his own people—the Jews—some two thousand years ago who were being destroyed for lack of knowledge. He said:
"Brothers, my heart's desire and prayer to God for the Israelites is that they may be saved. 2 For I can testify about them that they are zealous for God, but their zeal is not based on knowledge. 3 Since they did not know the righteousness that comes from God and sought to establish their own, they did not submit to God's righteousness. 4 Christ is the end of the law so that there may be righteousness for everyone who believes." (Romans 10:1-4)
I feel the same way when I see my fellow countrymen who are zealously trying to reach out to God but are missing the mark for lack of knowledge. They need to know who the real Jesus really is who loves them so much such that he died for them so that they no longer need to beat themselves up and nail themselves to the cross each year. Truly, "people are destroyed for lack of knowledge" (Hosea 4:6).
St. Paul said, "While we were still sinners, Christ died for us" (Romans 5:8). And Christ did it because he loves us—all of humanity. We don't need to crucify ourselves in order for God to love us. He already loves us! What is strongly urged is for us to believe this reality, accept it and enjoy life and love with our Lord Jesus Christ!
Related Blog: