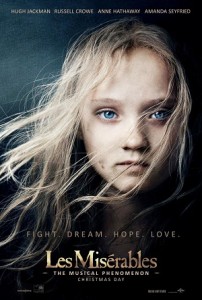 Without my realizing it, as my family and I were watching the emotion-packed movie, and as the story climaxed to the ending part of the musical drama film, Les Miserables, my tears rolled down from my eyes just naturally. That's how touching the movie was for me, my wife and my daughter who also wept silently. And I'm sure many in the audience wept too quietly. It really touched everyone's heart. The audience spontaneously clapped at the end of the film. It was a superb production.
For decades, I've heard the term, Les Miserables from time to time and I've heard how popular this musical drama has been through the years. I've also heard the name Victor Hugo but I never really bothered to take notice nor did it really interest me to get to know more about him. This movie really touched my heart and it got me into digging the background behind it all. My eldest daughter is different. She just loves reading novels, thick books and stuff like that—literature in general.
As one of the lady actresses sang, I suddenly remembered that Lea Salonga had been singing that song all along and I heard it from her first. I don't even know the title of the song but it was a song of love from a lady who was unnoticed by the young man she loved so much. For many years I have also heard the French-sounding name Jean Valjean but before this, I also never really bothered to find out who he was until now. Now I know. Such a great story about human suffering, injustice, love, mercy, grace, God's love and looking forward to a brighter tomorrow in the hands of our loving God. I highly recommend you watch this movie! You won't regret it. Great actors and great musical drama film!