The Apostle Paul said, "For physical training is of some value, but godliness has value for all things, holding promise for both the present life and the life to come." (1 Tim. 4:8)
While we may focus more on spiritual things—especially pastors and church folks—we must not forget that Paul said, exercise has "some value" too. He did not say it's useless. And you know what, we never learn the lesson until it's too late. I'm learning the lesson now—back again.
Treadmill For Exercise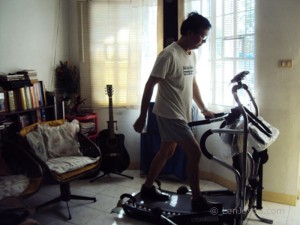 Some 4 or 5 years ago, my wife and I decided it was about time for us to buy a treadmill to help us in our need for exercise especially now that we have reached the age of 50. So we bought one. It was expensive but we really felt the need to have it for our health's sake. But you know what, I never did use it regularly. Just on occasions when I felt like doing it.
But with my recent poor health condition, I am now again back to the treadmill. I guess I have never learned the lesson—yet. I'm learning the hard way. So, back to the treadmill I go. Exercise! And it takes determination to do it regularly. So here I go—again!