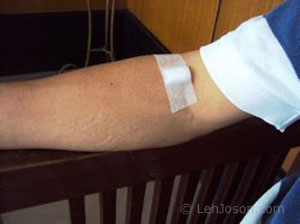 Because of what happened these past few days, we're back again to the doctor. For the second time, I got dizzy again so much so that I was no longer able to drive back home. My wife had to hire a taxi driver to drive our car back home. After relating what happened to the doctor, she prescribed another medicine and this time with a stronger dosage. Hopefully, this will now address my hypertension.
Hypertension: More Lessons Learned
After we left the doctor's clinic, we proceeded to visit a friend who was confined at the same hospital. Another friend was there who related to us that he had high blood pressure when he was about age 30. A young age to have HBP. I'm now 57. His heart condition was bad according to the doctor and he experienced what I had experienced these past few days. He said he really felt depressed thinking about the future and his family. But after taking in the "maintenance" medicine prescribed by the doctor, he said he felt fine and it's been ten years already. He may not have known it, but I got encouraged by sharing his experience with me.
He said that once one already has hypertension, it's for life already and "maintenance" medicine is necessary. I hope and pray the doctor has found the right medicine for me so I won't have to experience again having a very high blood pressure. It's really a terrible feeling. May the Lord continue to guide my doctor to find the right medicine and the right dosage for me to maintain my blood pressure to a normal level. I continue to be under the doctor's observation for one month.