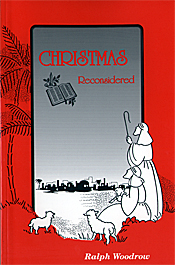 I received some e-mails reacting to an article I wrote on, The Christmas Message. Okay, it's no longer Christmas but I thought I should give a little bit of reply through this article. The e-mail writer totally missed the point of the message and instead focused on the date of the birth of the Lord Jesus and how pagan Christmas is.
In another article about Christmas trees, I showed how so many Christmas detractors are in error in their biblical interpretation of Jeremiah 10:2-4 to say that Christmas trees are evil and pagan. They need to study some rules on exegesis.
Christmas Reconsidered
For those who are yet unaware, I thought I'd let you know that Ralph Woodrow, author of Babylon Mystery Religion, has completely changed his position on Christmas and Easter. Although this book is earning well financially but he decided to remove it from publication. For many years, Woodrow, an evangelical author, was quoted in various books and booklets as an "authority" on the anti-Christmas position. Well, in 1979 he clarified what his position was on these issues. He said that he wrote the book in 1966 when he was about in his early 20s. According to him, when he changed his view and removed the book from circulation, he received countless hate letters from those who are against Christmas in his book, Christmas Reconsidered. Check this book and you'll be surprised!