Have you ever wondered why there are so many conflicting views among theologians? Why can't they seem to all agree with what the Bible really says? Don't be too sure you have the correct understanding! Why not take a second look?
Importance of Watching the Whole Movie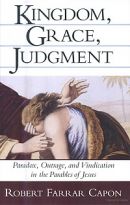 You need to watch the whole movie in order to appreciate what the whole story is all about. You don't interpret the Bible without first getting the whole point of the story—"the movie"—from Genesis to Revelation. You don't stop at midpoint and attempt to explain the movie. In essence, that was what I got from Robert F. Capon, author of the book, Kingdom, Grace, Judgment in an interview of him by Pastor Tim Brassell. It captivated my imagination! He said that for some 2,000 years, most of Christianity has misinterpreted many of Jesus' parables. I was intrigued by his explanation but I thought he made sense! I was excited to learn more!
Book on Parables by Robert F. Capon
In August 2007, a pastor friend of mine brought me and another pastor friend to a bookstore somewhere in California. We saw Capon's book, Kingdom, Grace, Judgment: Paradox, Outrage, and Vindication in the Parables of Jesus but there was only one copy! So my other pastor friend bought that one copy. I felt bad but thankfully, a few months later, another pastor friend gave me a copy of the book for free!
Read this Thick Book!
So I began reading the book. Capon greatly enhanced my understanding of Jesus' parables! Although I'm no avid bookworm, but this one is different. Although I hate thick books, but I begun to read it! I wanted to know what Jesus really taught through the parables he gave. Capon's interpretation is not the traditional view we often hear. You have to read the book to get what I mean. This is good news!
What a great blessing it was that someone gave me a copy of the book for free! I hope somebody would do the same for you and give you a free copy hahaha! But if you can't wait, go and buy the book. Just click the link or photo above. You can also read more "reviews" about the book on this link above. I'm sure you would enjoy reading it. Not only that, it will give you a better understanding of not only the parables but also a better understanding what the good news is really all about! Why don't you get a copy now!