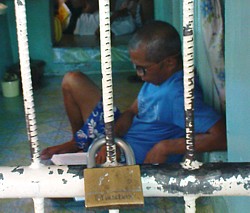 Pastor Carlos M. Castro and myself were among seven preachers from different denominations who were assigned to each speak about the "Seven Last Words" of Jesus in the afternoon of Good Friday, April 10. We were invited by Pastor Pio Umlas, our GCI Pampanga prison ministry leader at the Pampanga Provincial Jail.
Pastor Carlos M. Castro was assigned to speak on the fifth saying, "I thirst." He told the 200 or so inmates that Jesus is the living water where everyone can drink of and never thirst again. He told them that God is freely offering them this living water, the Holy Spirit.
As for me, I was assigned to speak on the last saying. I spoke on what Jesus meant when he said, "It is finished." I told the inmates that it was God's plan all along to draw all men — not just a few — to himself when Jesus was lifted up (John 12:32).
Everyone's Reconciled
In his great love, God had planned all along to reconcile everyone to himself (Col. 1:20). I explained that everyone has been predestined to be adopted as God's children (Ephesians 1:5). I explained that Jesus was not "Plan B" which God quickly came up with as a solution when man messed things up because of sin. Jesus was the lamb slain from the foundation of the world. It was planned all along, before the beginning of time.
I told them that in so far as God was concerned, it is all been done—finished. Everything that's needed to be done for us to be reconciled back to him has already been done by our Lord Jesus. I encouraged all the inmates to receive, accept, believe and experience God's love and his free gift of reconciliation.
Good Friday Message of Hope
Despite the differences in beliefs and practices among the preachers, the messages that were given that day uplifted and encouraged the inmates who heard the gospel that day on a Good Friday. A few months back, we baptized 17 inmates (15 females, 2 males) in this provincial jail.